Open Shelves Fireplace Tv Stands
Fireplace electric TV stand with open shelves presented in a modern and classic designs with a variety of colours and made from wood mostly. No matter which tv console size you own, there are available models for any tv console size, from small to wide inch consoles, but in this category gathered square form open shelving fireplace tv stands. If you are looking for the same type of tv stand but wide, please check the wide fireplace tv stand with open shelves category.
Open shelving may be used to imitate built-in construction of fireplace tv stands. In almost all models open shelves is adjustable. By placing a media player, apple tv and sound speakers to open shelves you can create a look, like it is made in the factory with built-in media. Just hire yourself as an interior designer and make an awesome look with open shelving and your media and all other important attributes.
Showing all 2 results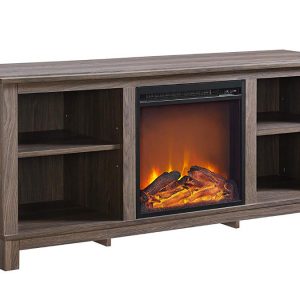 Square form tv stand with electric fireplace and open shelves may suite for tvs with up to 55 inches diagonal. Farmhouse tv stand with fireplace and open shelves or Entertainment fireplace tall tv stand or small, hope that you find what you need in our catalogue.
The most popular colours of fireplace tv stands with open shelves are: white, grey, black and rustic style.
The most popular brands is Ameriwood and Walker Edison.
Chimney function is similar across all models, you can square rooms up to 400 sq. ft. in general with 1,500 watts per hour consumption.