Cabinet Fireplace Tv Stands
Tv cabinet with fireplace is a great solution to organise storage of media items, books and other interior attributes in living room or bedroom. Electric fireplace tv stand with big lots not only space saver but it is important interior part which emphasis interior design, draw attention to place where it stand providing warm atmosphere and feelings.
Cabinet fireplace tv stand is preferred by families with child and or with home pets because of closed doors of cabinet which protect content inside. Or this kind of multimedia furniture just your choice to get nice look in you room interior.
Showing all 3 results
- 24%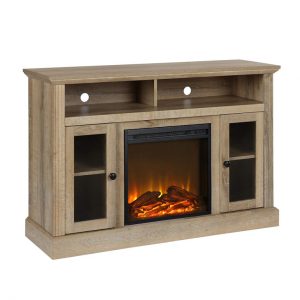 Exist wide range of tv cabinets with fireplace in a variety of colours and forms. With adjustable shelves and fixed shelves. With open center shelve and closed. Material is a wood in general but exist stand cabinets with combination of materials like glass and wood, metal with glass transparent view doors and cloudy doors also. By it's dimensions there also many choices for small rooms and for wide halls.
You are available to find the best cabinet fireplace tv stand in our catalogue with price which will meet your budget. Just use filters in sidebar to find model what you need.